A Brief Introduction on the Historic City Of Malacca
The Historical City of Malacca (Melaka) is located in the state of Malacca (Melaka) which is the second smallest state after Perlis in Malaysia. The state of Melaka covers an area of 1,650-sq. km. or 1.3 percent of the whole area of Malaysia. The state is divided into 3 district that is Central (314 sq. km), Alor Gajah (660 sq. km.), and Jasin (676 sq.km.).
Malacca State is situated two-thirds down the West coast, 148 km. south of Kuala Lumpur, the capital of Malaysia and 245 km north of Singapore and commanding a central position on the Straits of Malacca. Malacca City which is strategically located between the two capital is linked with excellent roads and highways, Malacca has no train station and the nearest one is located in Tampin, Negeri Sembilan. It has an airport located at Batu Berendam about 8 km away.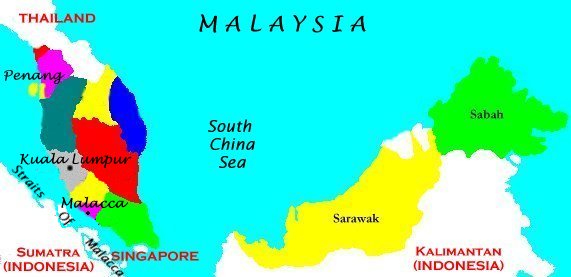 Malacca's population of almost half a million people is a fascinating polyglot of Malays, Chinese, Indians, Portuguese descendants, Straits-born Chinese, and Eurasians, in various ways characteristic of Malaysia's population as a whole. The capital, Malacca, was for a brief period in the 13th to 14th century one of the greatest trading cities in the world, and it is today a city of remarkable historical and cultural interest.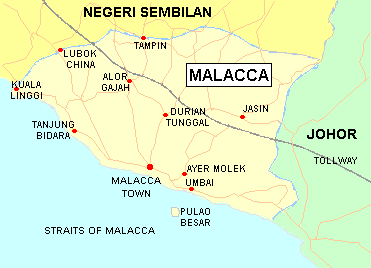 Map of The State Of Melaka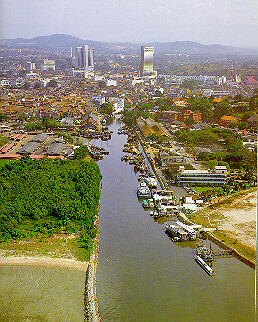 Historical City Of Malacca
(Foreground is the mouth of the Malacca River)
The City Of Malacca is twin city with four cities, they are Lisbon, Portugal (16 January 1984), Kuala Lumpur, Malaysia (15 April 1989), Hoorn, Netherlands (8 November 1989), and Valparaiso, The Republic of Chile (23 June 1991).



| Introduction | History-Dates and Events | Historical Places In Malacca | Interesting Places To Visit In Malacca | Walk About | Trivia and Folklore | Old Paintings and Maps | The Malay Sultanate of Malacca | Legendary Visitors Of Malacca | The Portuguese Conquest | The Malacca Fort | The Ruins of St Paul's Church | Getting There | Where To Stay | Maps | University Tenaga Nasional | Who Am I | Search | Today's Weather Report
LE FastCounter